This Is Why I Root For Barcelona
circa 2010-2012, and fuck if I'm going to update everything now, dealwithit.gif
IntroductionIntroduction
Before I really get into things, I will make it clear that while FC Barcelona is of course a football team, I don't really care all that much for the sport of football itself. I just don't find watching people kick a ball around very exciting. If I'm invested in the outcome of a match I'm too busy chewing off my fingernails to appreciate what's going on, and if I'm not I'm bored. That makes me a very bizarre and counter-intuitive sports fan, but I don't follow sports for the tactics or feats of superhuman strength. I'm in it for the story, and Barcelona has some great ones. (Since the sexist comments about female sports fans will inevitably come out: first of all, grow up. Second of all, please. I'm not in love with Barcelona for the pretty. Leo Messi looks like a gerbil. An adorable gerbil, but still.)
Barcelona's three main selling points are:
1. a style of football characterized by small, technically skilled players who tend to rely on their ability to pass and keep the ball rather than traditional defensive tactics or fast counterattacks, which while both pretty (geometry in motion!) and effective (other teams can't score if they don't have the ball!) is largely irrelevant to me since I don't watch very many games. If you are particularly interested in the nuts and bolts, though,
this article
by Simon Kuper is a really great summary of how and why the Barcelona style works.
2. its role as a symbol of Catalan identity in the face of Spanish oppression, particularly during the Franco period. Not being Catalan myself, I think I can best honor and respect this by not making ignorant comments.
3. its dedication to home-growing its team. (You can read some interesting articles on the Barça youth system
here
and
here
.) Half of Barça's first team (Victor Valdes, Gerard Pique, Carles Puyol, Andreu Fontas, Xavi Hernandez, Andres Iniesta, Pedro Rodriguez, Sergio Busquets, Cesc Fabregas, Thiago Alcantara and Lionel Messi), including all four current captains, came though La Masia, the Barcelona academy, which means they've known each other for approximately forever and a day. Most of them lived in the Barcelona youth dorms when they were younger. Kids still in the junior teams are often invited to train with the first team as a special reward or to make up numbers; the theory is that this makes youth products better qualified to make the jump up to the senior team. It also makes the team feel even more like a big family. (At least to those positively inclined, anyway. The less flattering interpretation of the system is that it resembles a cult.) This could get cliquey very fast, but newcomers are swiftly adopted (or indoctrinated) into the group.
One final introductory note: some people like the
mes qué un club
slogan of Barcelona (it translates to "more than a club"), some people think it's pretentious, etc. I really appreciate their putting their money where their mouth is and putting Unicef as their sponsor on their jerseys. They donated money to Unicef for the privilege instead of the other way around. Barcelona got a real shirt sponsor in 2010 for the first time (I'm not happy about it, nor is anyone I know, but the club is massively in debt and it was a
lot
of money, so I understand why it was done), but they're also keeping Unicef on there.
baby dream team are cuter than you
Lionel Messi, Cesc Fabregas and Gerard Pique (often referred to collectively or in various combinations as the Baby Dream Team of the Class of '87) were first united at the Barcelona football academy, La Masia, when they were thirteen. (Cesc and Gerard had been there together since age eleven.) Leo came all the way from Argentina to attend the academy, was undersized due to a growth hormone deficiency and missed his mother, who had moved back to Argentina with his younger sister; he was so cripplingly shy that Cesc and Pique (who probably couldn't even define "shy" without recourse to a dictionary) initially thought he was mute. However, the discovery of a shared interest in videogames while they were away in Switzerland for a tournament eventually led to Leo opening up a bit.
The three of them formed the backbone of a ludicrously talented junior squad that drew comparisons to the legendary Barcelona team that won the club's first Champions League trophy, the Dream Team. The year they turned fifteen, which Cesc Fabregas nine years later still calls the best year of his life, they won not only three trophies but every single game they played.
All good things must come to an end, though. When Cesc was fifteen he decided he wasn't going to get enough of a chance to make the first team at Barcelona and signed for Arsenal, a team in London. A few years later Pique reached a similar conclusion and joined Manchester United, another English team. Leo stayed behind in Barcelona, where he was very swiftly promoted to the first team. (This is not in any way an indictment of Cesc and Pique's decision to seek professional advancement elsewhere. They are very good players, but Leo is the best in the world and maybe of all time.) During this separation, Cesc and Pique (who are best friends and closer to each other than to Leo) apparently went through a period of not speaking to each other due to "romantic friendship problems" which were not, they want you to know, related to a girl. (You couldn't
make this stuff up
.) They did get over it eventually.
Meanwhile, Cesc was making a very successful career for himself at Arsenal, where he soon made the first team and drew a lot of attention, resulting in a call-up to the Spanish national team for the 2006 World Cup; Leo was likewise called up for Argentina. (Cesc and Pique are Spanish Catalans and both represent Spain internationally as well as playing for the unofficial Catalonian team. Leo has dual citizenship for Spain and Argentina, but despite interest from the Spanish football federation he only wanted to represent his native country, or else the three of them would have been reunited a lot sooner.) Pique, on the other hand, struggled to make a mark at Manchester United and returned to Barcelona in 2008, under the regime of new coach Pep Guardiola. Pique, reunited with Leo and under the tutelage of his "big brother" Carles Puyol, blossomed into one of the best center backs in the world and eventually earned a starting position with the Spanish national team. Barcelona in that year won an unprecedented six trophies. The next year the big prize, the Champions League, eluded them, but they won the Spanish league with a record number of points. The year after that, they won the Champions-domestic league double. Barcelona was widely hailed as the best club side in the world, maybe in history.
Back in London, Cesc won nothing. The closest he had come to glory with Arsenal was a Champions League final in 2006, which they lost (ironically enough) to Barcelona. Barcelona knocked Arsenal out of the Champions League twice again in following years. Cesc won the European Championships and (with Pique) the World Cup for Spain, but there was a feeling that his career had stalled out at Arsenal, a team that seemed to perpetually underachieve, and a media maelstrom exploded after he made an off-hand remark that he was happy at Arsenal but would of course return to Barcelona (his childhood club) if Pep Guardiola (his childhood idol) came calling for him. Well, they came calling all right. The will-he-won't-he transfer saga went on for two years, with quotes both real and fabricated from Barcelona players expressing their desire for Cesc to "come home" continually fanning the flames. Pique was a particularly vocal proponent of this idea. Leo was less open about it in the media (technically it's against the rules for clubs to directly approach players who are under contract with another club; this is called "tapping up" and the more outspoken Barcelona players received a lot of criticism for their remarks), but his repeated stance was that he would be very happy to have Cesc back, both as a potential teammate and as a friend.
Finally,
finally
, the transfer saga from hell ended at the beginning of the 2011 season. Hilariously, Pique tweeted about how
excited
but
nervous
he was before the official announcement was made and made a
gleeful announcement
to the entire internet when he knew for sure Cesc was coming home. (Cesc said afterwards that Pique had been
calling and texting
him incessantly to ask how the negotiations were going.) As you have probably surmised, Cesc, Leo and Pique are adorable together. Like puppies! Drunk idiot puppies, possibly. Probably. (I am a huge sucker for a childhood sweethearts storyline. Have an article on the Barcelona Baby Dream Team
here
and
here
and a hilarious interview with Cesc and Pique
here
.)
I cannot lie: you should probably brace yourself before looking any further. There have been a lot of tragic hair decisions made among the three of them.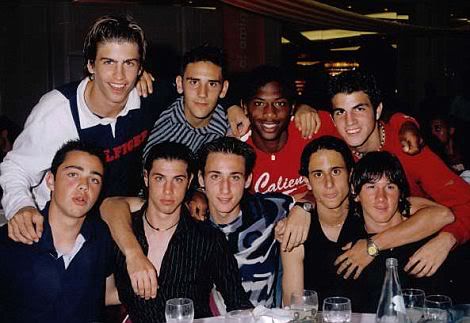 Pique is back row, far left; Cesc is back row, far right; Leo is front row, far right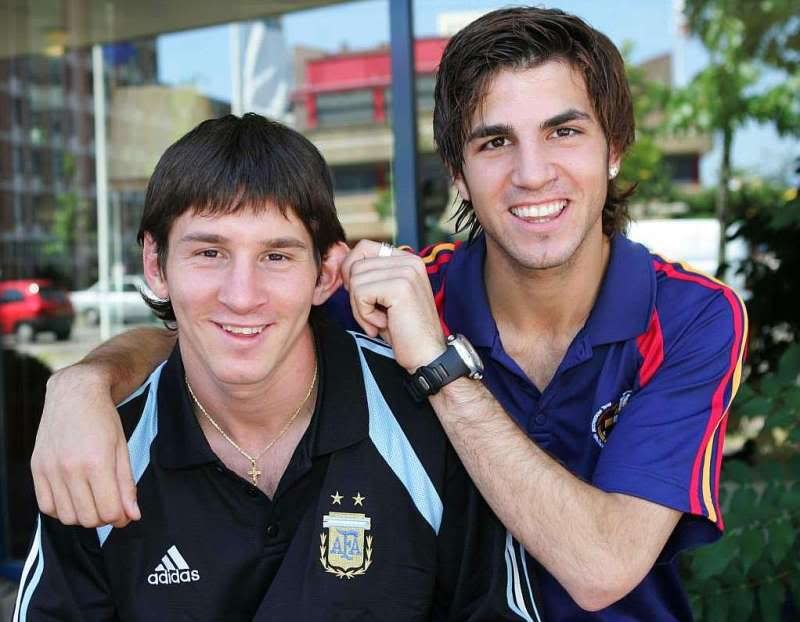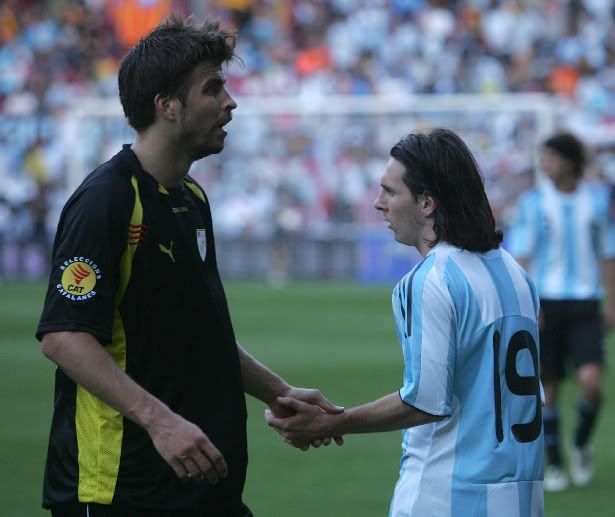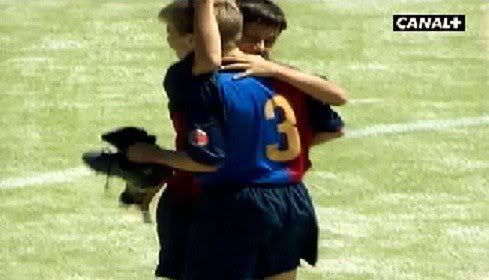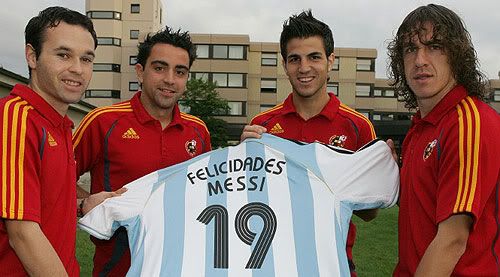 Leo turned 19 during the 2006 World Cup. the Barcelona players in the Spain squad, plus Cesc, wished him a happy birthday.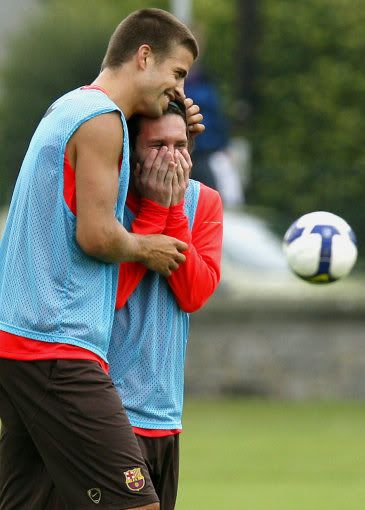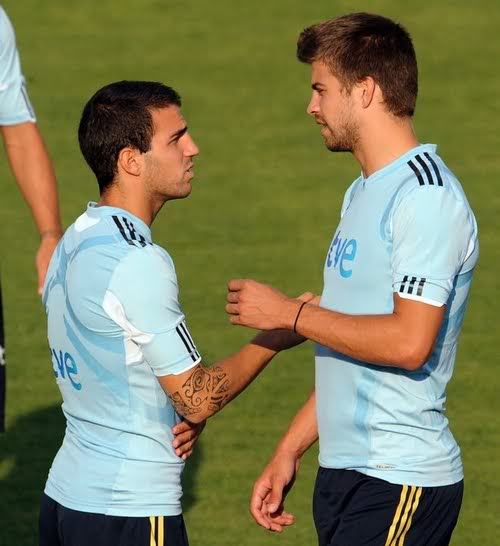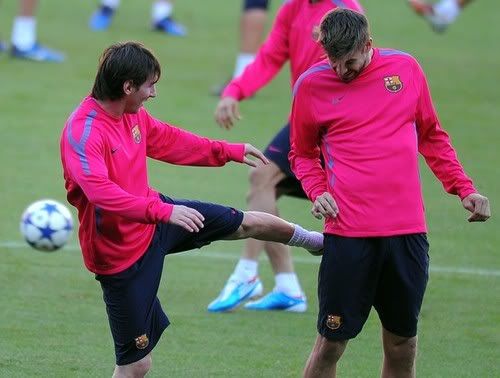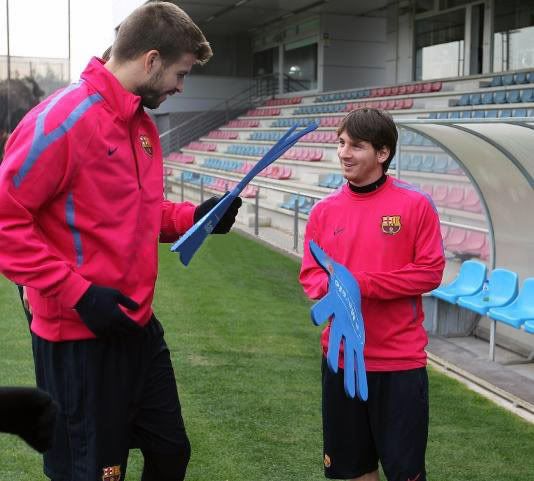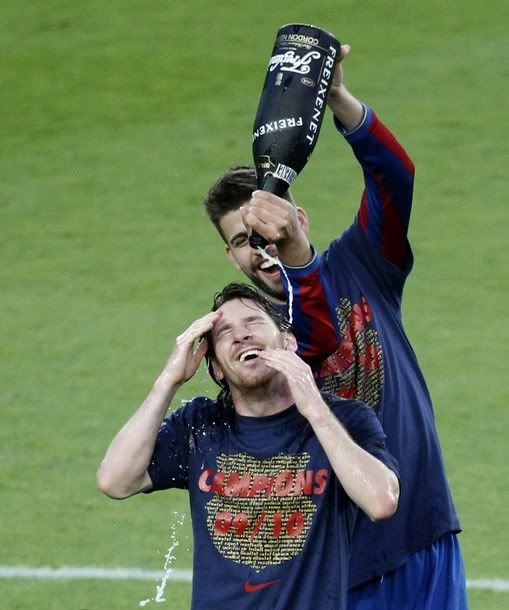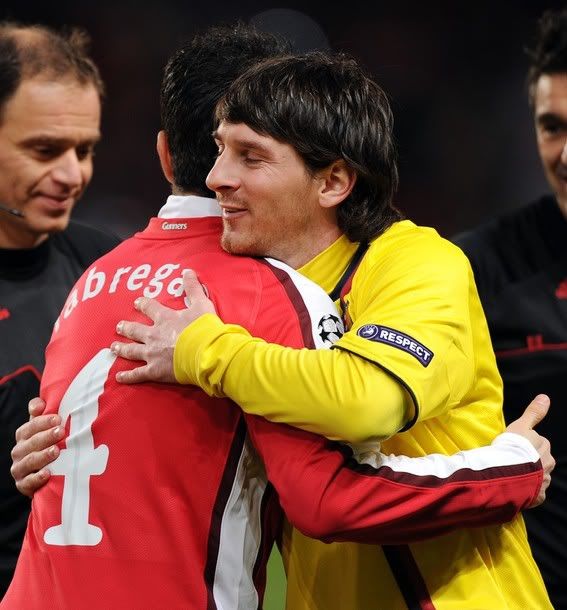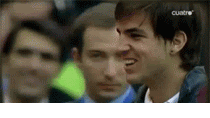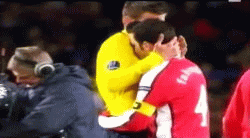 puppies are sad when they have to play against each other instead of together...

but in the end the transfer saga from hell was resolved, Barcelona got their man and the La Masia Class of 1987 was reunited again!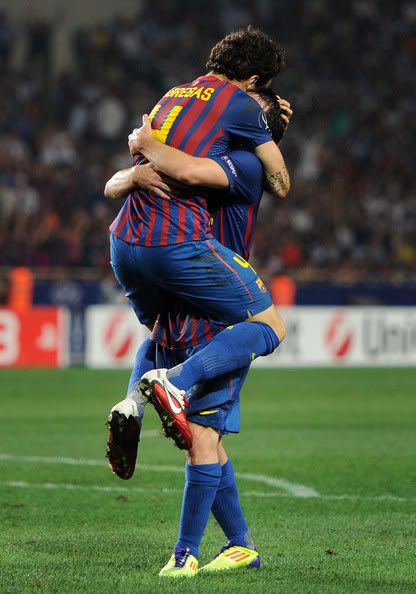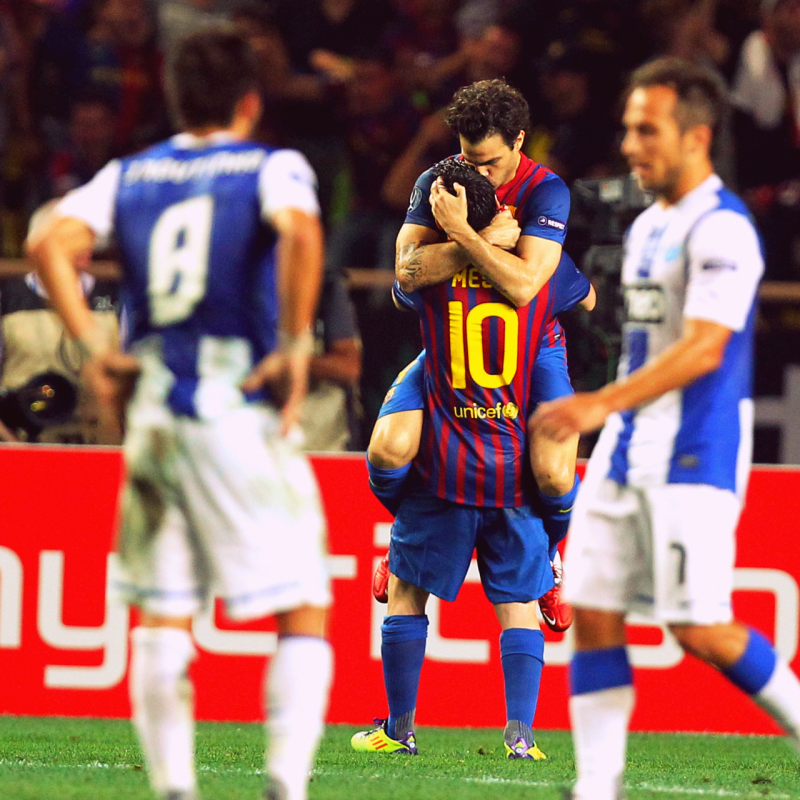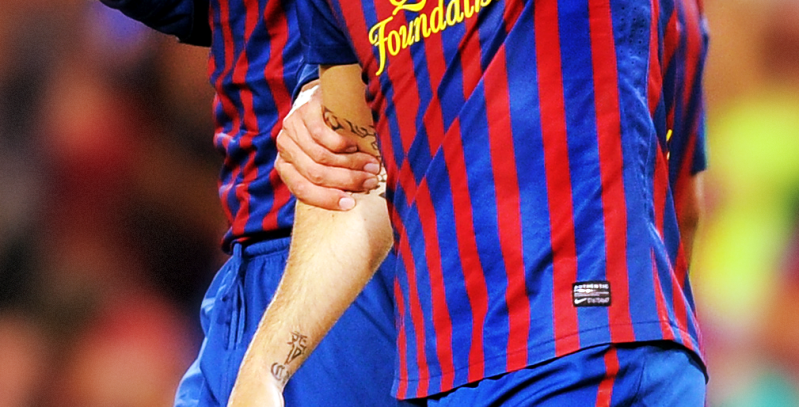 Cesc debuted for Barcelona in the last fifteen minutes of the Spanish Supercup against Real Madrid. he helped set up the match-winning goal for Leo and won his first trophy with Barcelona in his very first match. and then Leo assisted a goal for Cesc in the UEFA Supercup and he won his second trophy in his second match. and then Leo assisted another goal for Cesc in their first match in the league, which Barcelona won 5-0. welcome home!
platonic brOT3
there is also some purely platonic sweetness going on at Barça. if you're a fan of the Spanish national team, you've probably noticed that Cesc, Pique and Puyol are pretty much inseparable whenever they're playing together. even when Cesc isn't in the picture, Pique and Puyol are really close - when Pique returned to Barcelona in 2008 (he'd been with Manchester United for a few years and even won the Champions League with them, but he personally requested that Alex Ferguson let him go home when Barcelona came calling) Puyol was having a really rough time, and he credits Pique with helping him get through it. (his father had died suddenly, he'd just broken up with his girlfriend, and the club itself was in shambles. I wish I could have just given him a hug. capitan... ;_;) he talks a little about his relationship with Pique in
this interview
, though I think the whole thing is worth reading.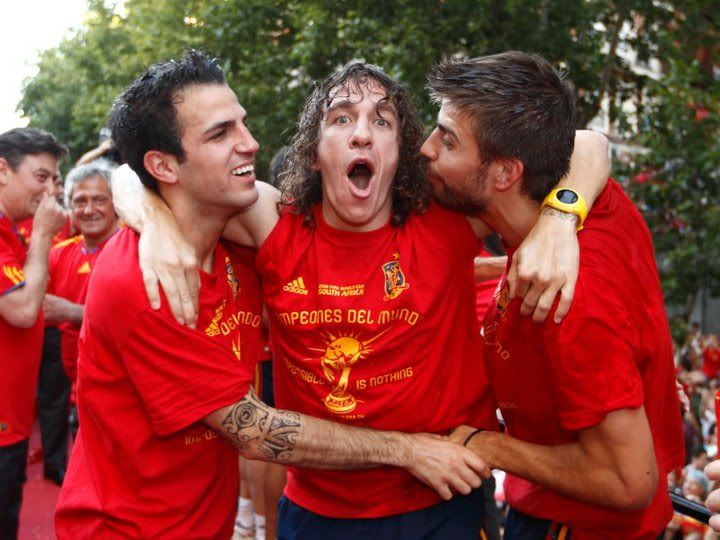 platonic brOT3?

our coach is definitely hotter than yours
the hotness that is Barcelona's coach is always relevant, in that he's also a product of the Barcelona youth teams and was a hugely important player of the previous generation. (informative primer on Pep over on
twoyellowcards
here
; some interesting articles about his first year coaching Barça
here
,
here
,
here
and
here
.) I'm pretty sure that every single one of the players listed above had a big childhood crush on him. (except Puyol. I don't want to speculate about his childhood crushes.) Pep has always been a big supporter of Iniesta in particular. Iniesta is really, really shy and his teammates have always stood up for him in the media but he only started getting recognized as a genius in the press pretty recently. (Iniesta may not be pretty but the way he and Pep talk about each other is SO SWEET, big awwwww all around. actually, just
read this article
. the quotes from all sides are adorable. or watch
Nike's Write the Future message from Pep to Andres
. again: awww.) main point: this squad adores their coach, and he has been very, very good to them. don't believe me? his first year as their coach, they won every competition they entered. six trophies. no team has ever won a sextuple before. king of all he surveys:


he was damn attractive when he was still a player.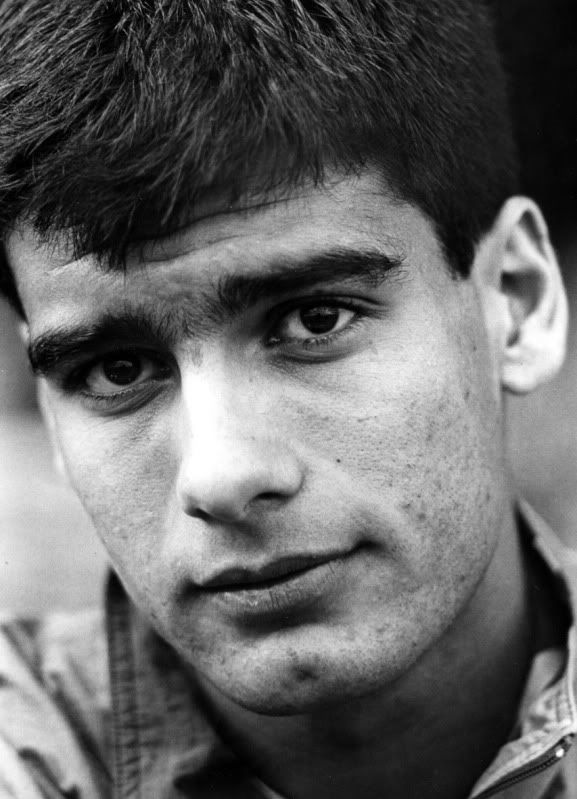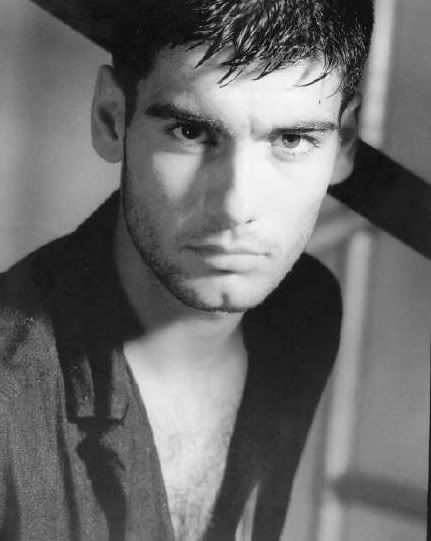 I think he's even more attractive in his current silver fox status, though. what can I say, the man can rock a suit.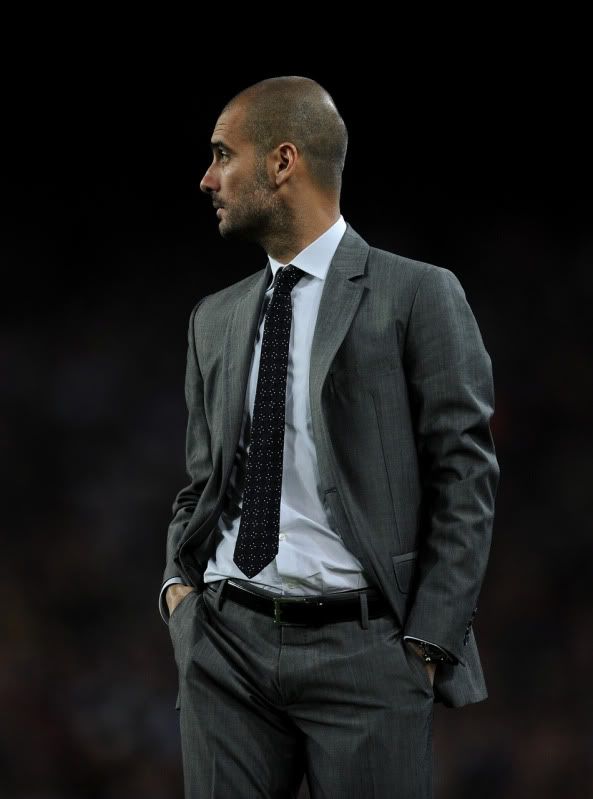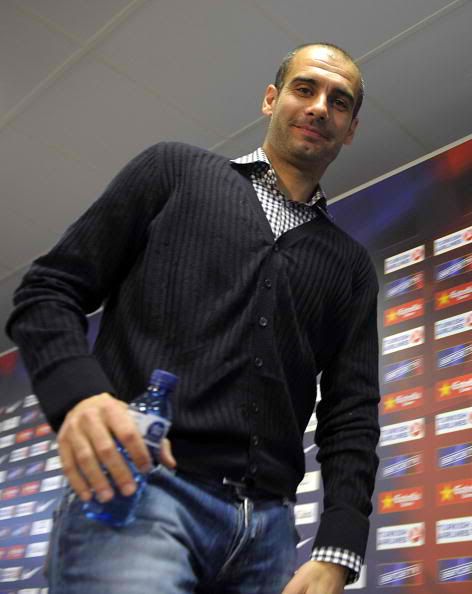 and a cardigan.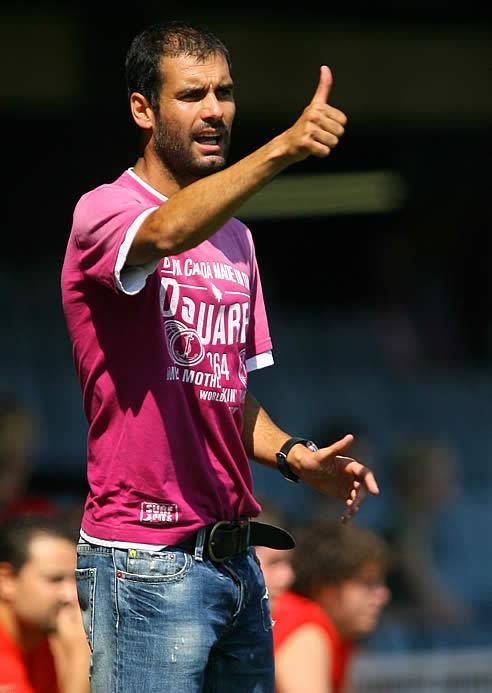 and a pink T-shirt.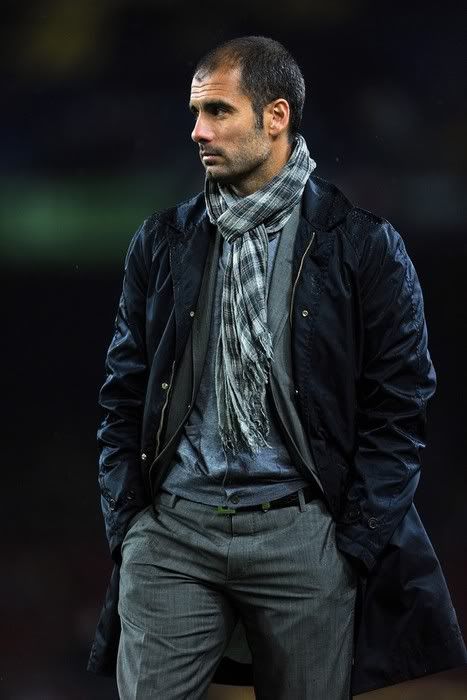 and a fucking hipster scarf.



just in general, probably more attractive than anybody who actually plays on the team.

he's also unbelievably hands-on with his players. I have pictures, but why bother when a television program did a video montage of nothing but him hugging people? if you're anything like me, you'll probably end up watching it about five times in a row, so it's lucky the music doesn't suck.



one aspect of Pep's history that I think is particularly fascinating is his relationship with Luis Figo. I'm not interested in talking about Real Madrid in this post, but I'll link to
this article
on the rivalry between Real Madrid and Barcelona, so that you can understand that Figo's transfer to Madrid after five years as a
popular player and vice-captain
at Barcelona was absolutely devastating. (there's an article about the transfer and the aftermath
here
.) Pep was very close to Figo (the passing reference to how the two of them used to hang out with Jose Mourinho in
this article
kind of cracks me up, I must admit) and he's Barcelona to the bone; I can't even imagine how he felt about Luis leaving for Madrid, although to the best of my knowledge their friendship did survive the move. but anyway, this is why I refer to them as the tragic romance of the previous generation. (I have to admit to being heavily influenced by
guede_mazaka
in how I see Figo and even Pep;
The Portuguese Man's Guide to Dating
is a light-hearted take on them and
Inheritance
is much more serious, but both come with useful footnotes, if you're interested in learning more.)
I love my baby gerbil and if you are mean about him I may cut you. you have been warned.
probably the biggest name on the Barça squad is Leo Messi
(sorry, Zlatan)
. Leo doesn't do as well playing for Argentina as he does in his club (pretty in-depth article speculating about why
here
) and he gets a lot of flak for it, so his World Cup showing was not the best, but I'm sure he'll be back to normal when club play starts up. Leo is the currently only non-Spanish member of the home-grown team. that's because when he was a wee bb he had a hormone deficiency and the treatment was too expensive for his parents or his local football club to pay for; Barcelona had scouted him and offered to pay for his medical expenses if he would come live in Spain. he's understandably very loyal to Barcelona. he was promoted to the first team very young, and he was very, very shy - Cesc and Pique said that in the academy when he first arrived they thought he was mute, although they did end up bonding eventually; he's still really quiet for a superstar footballer. with all the players from the cantera right now (and Bojan, who we'll get to later) he's not the baby of the team anymore (translated article about his relationship with Ronaldinho
here
) but he's only 23, and he's widely hailed as the best football player in the world.
also? he's adorable, pocket-sized for your convenience, and appears to have no greater ambition in life than to play ALL THE FOOTBALL, win ALL THE TROPHIES, and play with kids. this is partly explained by the fact that he's got the attention span of a five-year-old.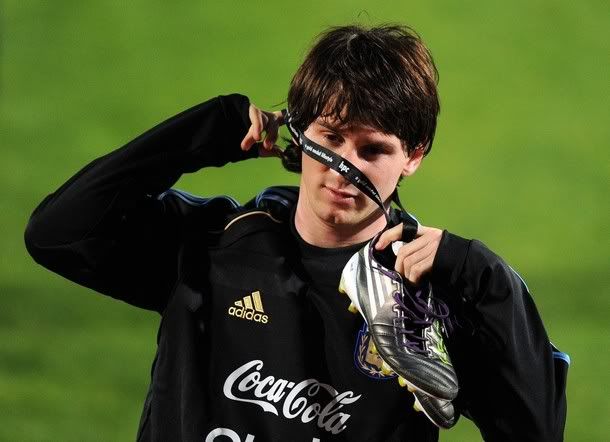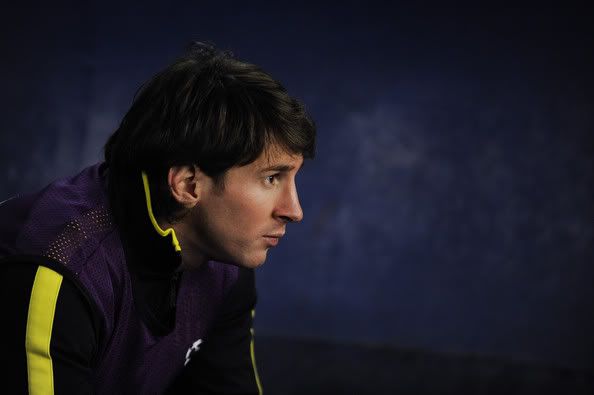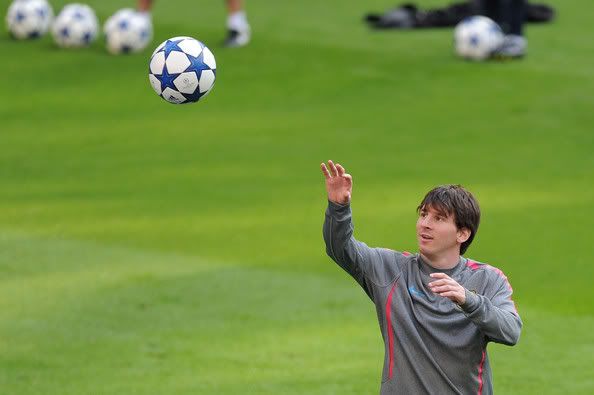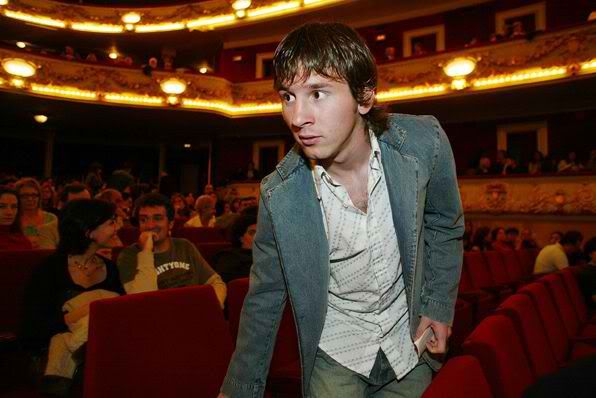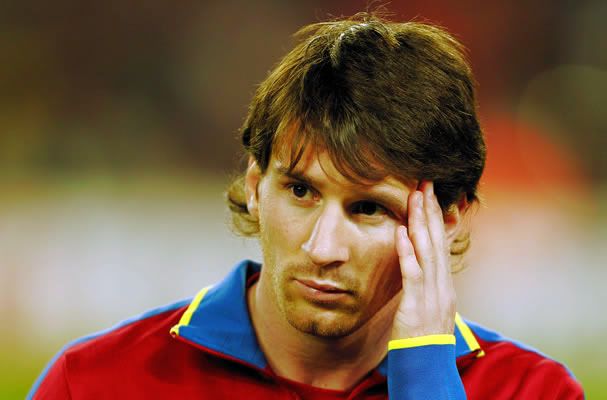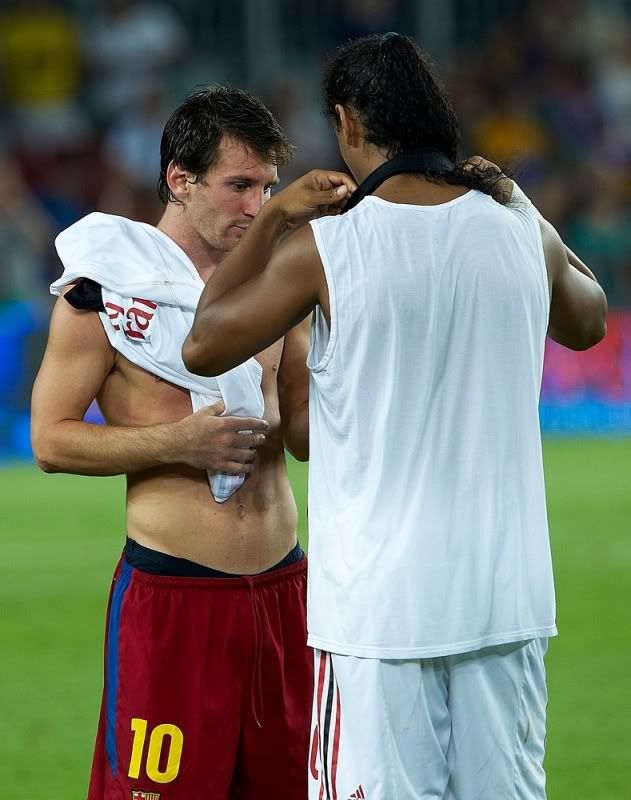 note: do not let the cute exterior fool you. Leo Messi is ridiculously ripped under those baggy clothes.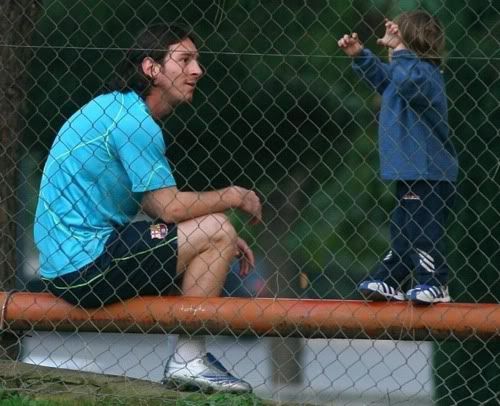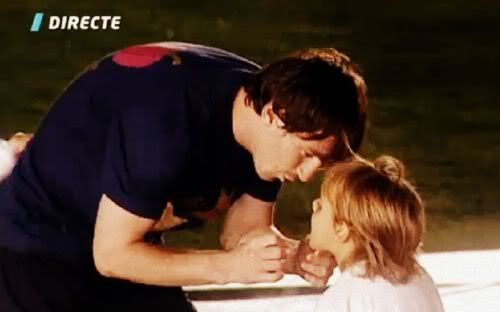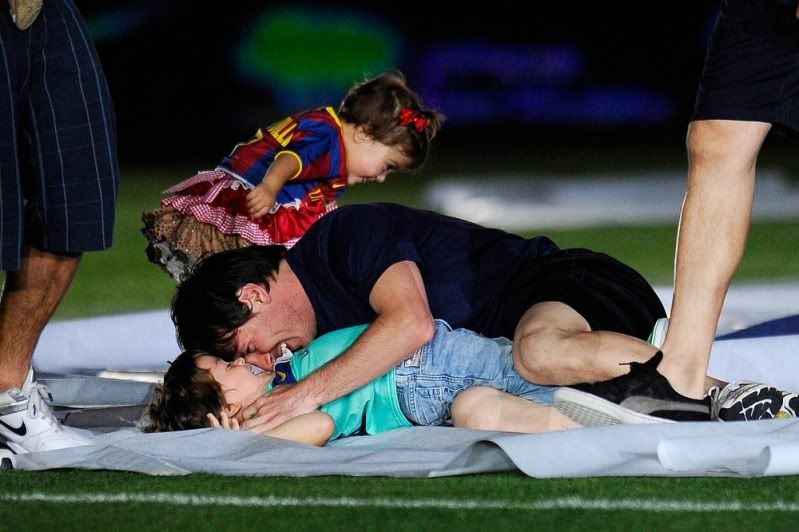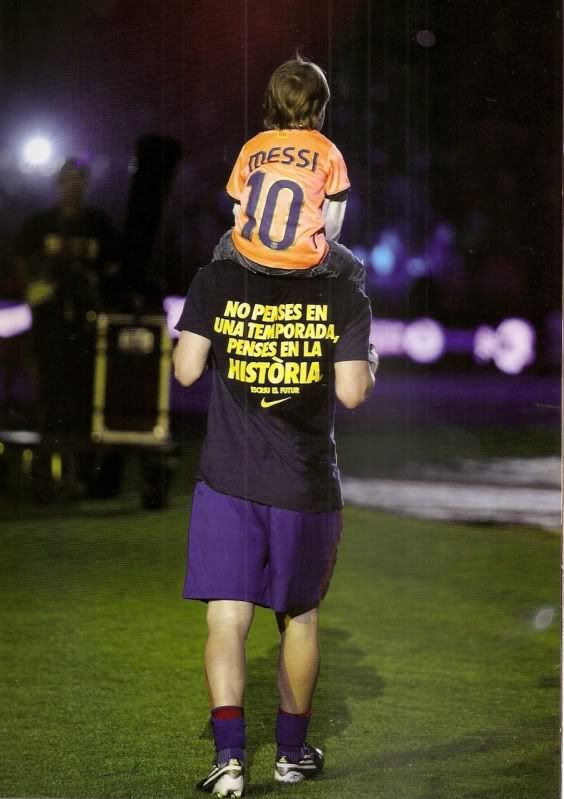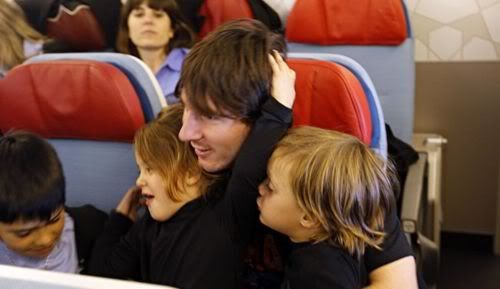 if you cannot find Leo, chances are he is buried under a pile of adoring children.

ran out of space on this post, so all further spams are going to have to be linked, sorry.
Xavi and Iniesta, footballing soulmates
Messi and Villa are well up on bromance
the pure and true love of Victor Valdes and Andres Iniesta gets a picspam, an essay and a series of supporting quotes. I LOVE THEM KIND OF A LOT.
the brothers Alcantara are here to make you care about Barça B
'tis better to have loved and lost: a tribute to some beloved players that are no longer suiting up in blaugrana
I haven't found a whole lot of decent fic about Barça, to be honest. the individual players aren't as flashy as some other clubs, so they don't get as much written about them. as mentioned above, I quite like
The Portuguese Man's Guide to Dating
by
guede_mazaka
, which is about the Barca generation before this one. (it comes with explanatory footnotes.)
The Road to Ithaca
by
stickmarionette
is also about the previous generation, and gives a really good feeling for Pep's background, etc. (also with useful footnotes!)
Hit
has pretty much every character who will ever appear in football fic, but don't start reading unless you have about a week to spare, and prepare to be really confused for the first few chapters. (the Barca characters mostly only show up in the
Magverse
spinoff.)
the truth about you and me
by
stickmarionette
is really really lovely Leo/Cesc about their time in Barca's youth team. (more footnotes!)
Salir
by
synaesthetical
is also great Baby Dream Team fic, and deals with the transfer drama admirably.
The El Siete Chronicles
(with sequel
In The Special Collection
) by
guede_mazaka
is an AU along the lines of an Indiana Jones movie, but it's mainly Barça and Arsenal players. (ETA: and of course now I realize that
stickmarionette
has lots of awesome Barça fic. go
here
for more!) (ETA: also
luxover
has some really good fic
here
, and
brojan
's is
here
.) (ETA: also I think it's tacky as hell to pimp your own writing but since there is so little Barcelona fic idk maybe it is of interest to know that I do
occasionally write stuff
as well.)
ETA: I think I take for granted the humility and team spirit of Barcelona under Pep Guardiola; it's easy to forget how immensely the club has changed in the extremely brief period since he took over. Barça is, I think, a very easy club to love right now. that has certainly not always been the case. I wasn't around in 2007 to know the pre-Guardiola Barcelona - though
stickmarionette
was and I'm linking her
summary of 2000-07
, which you should read right now - so I'm going to borrow
the ever-eloquent words
of
applegnat
, who was:
Aaaaaaaaaaaaaaaaaaaaaargh. We could talk all day about Barcelona, with their affected faux-nationalism, their insufferable smugness, their neurotic, egotistical politics, their culture of paranoia and suspicion. We could start, maybe, with those hideous uniforms, which they, in a show of glorious pretentiousness, emblazoned with the UNICEF logo, having accepted a grand total of one euro from said organization. [Why this is significant, for anyone reading who is unfamiliar with European football: Arsenal's jersey advertises Emirates. Milan's advertises bwin. Barcelona's sworn enemies, Real Madrid, are sponsored by Siemens. Like every other club in Europe, they got a lot more than one euro from their shirt sponsors for this.] We could talk about the Camp Nou, legendary among stadia for its atmosphere – and for fans who throw severed pigs' heads at rival players on the field, *during the course of a game*. We could talk of their local rivals, the plucky, talented, unfairly overshadowed Espanyol, whose fans, fed up with Barca's Catalan-pride posturing, unfurled a banner in the stands this season that read: "Catalunya es mès que un club" [Barca's motto is mès que un club – more than a club].

We could talk about the football, that self-destructs spectacularly on field, more spectacularly than other teams do. Other teams crumble, other teams slide, other teams throw their hands up and roll over. Barca, when it is bad, and it is bad pretty often, *explodes*. Messily. We could talk about the players' egos, which no other club in the world allows to get so out of hand. We could talk of their impending annihilation by wilful stupidity.

We could talk and talk and talk. But none of this would alter the fact that when Barcelona are good – and they are good pretty often, too – when that bunch of unlikely heroes, men who look nothing like the chiselled demi-gods fielded by other teams at first sight; when those players, short, squat and bandy-legged, upholders of the grand Barca, really get their act together, you know that if there was a god, she would be a Barca fan. One can only really follow her lead.
I don't know if I would have loved that Barcelona. it's hard to say. but I think enough of what I love about them now would have shone through to win me over even then.
in conclusion, have a music video (made by the official BarçaTV channel, and how much do I love that they have their own TV channel that makes
music videos
) which basically packages everything that is awesome about FC Barcelona into four minutes with a fabulous soundtrack:
I guess it's time for me to cave, admit that I really am in this fandom, and start a proper epic list of recs. not tonight, though. we'll see.
ETA:
yeah, I caved.